HomeBusiness Source Interface
Business Source Interface
---
Photo: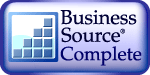 Access Business Source Complete from within the Library
Access Business Source Complete from outside the Library
description from EBSCOhost.com
Business Source Complete provides selected full text from 11,200 sources, including more than 1,100 scholarly business journals. Covers all areas of business, including accounting, economics, finance, management, management information systems, marketing and international business. Additional full text, non-journal content includes financial data, books, monographs, major reference works, book digests, conference proceedings, case studies, investment research reports, industry reports, market research reports, country reports, company profiles, SWOT analyses and more.