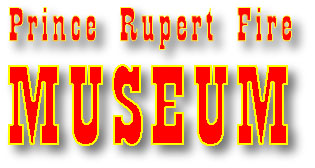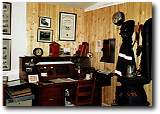 The Prince Rupert Fire Museum is operated by members of the Prince Rupert City Fire Rescue and by former Prince Rupert Fire Department auxiliary members. The museum, located beside the Prince Rupert Fire Hall, is home to a wide array of fire service artifacts, including a totally restored 1958 American LaFrance pumper truck and a 1925 R.E.O. Speedwagon fire truck, the centre piece of the museum. Currently under restoration is a 1946 Mercury four door ex-B.C. Police car.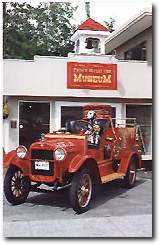 History of our 1925 R.E.O Speedwagon
This vehicle, the 3rd fire truck purchased by the city, served Prince Rupert from 1924-1950. It was decommissioned in 1950, stripped of its fire fighting equipment and was sold and transferred to the Porcher Island community of Oona river. There it was used as a sand truck and lumber carrier until it was left to rust away in the salmonberry bushes alongside the main road, in around 1965.

In 1985, a group of people from the Fire Department became interested in the history of the R.E.O. and ventured down to Oona River to try to locate the old truck for a possible restoration. The good people of Oona River donated it back to the P.R.F.D. and it was brought back via barge, to begin its extensive restoration.

This R.E.O. was the first fire truck in Prince Rupert with inflatable tires, electric lights, and an electric starter, although the crank was still used when necessary. The R.E.O. was known to exceed 40 m.p.h. in its day, hence the name "Speedwagon". This fire truck was equipped with soda water and an acid tank which, when mixed together, would create a reaction resulting in enough pressure to propel water through a fire hose. This system was very effective on small fires, but due to holes left in furniture and carpets from the acid laden water, it was discontinued in the 1940's. Specifics Engine- 30-35 H.P. 4 cylinder Transmission - 3 speed with reverse Vehicle weight; 1 1/4 ton.

1958 American LaFrance


As one of only 2 LaFrance fire vehicles built with a prototype "transmatic" transmission, we believe that this is the only one left in existence. The riot act was once read from atop this vehicle twice in one night by former long time Mayor Peter Lester. Removed from service in 1990, it was donated to the museum where local members and a long list of local business helped to restore her back to her original beauty.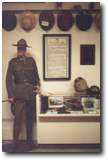 The Museum also contains history and artifacts of the BC Police, a provincial force that preceded the present day Royal Canadian Mounted Police. The BC Police, operating from 1858 to 1950, has quite a colorful history up here in remote northern British Columbia. Our collection, small but growing, of B.C. Police artifacts, is said to be the largest of any collection in the Province. This 4-door sedan car was a former B.C. Police vehicle. Found in Terrace, B.C., this vehicle is currently involved in a complete restoration from the frame up.

MEMBER OF THE NATIONAL FIRE PROTECTION ASSOCIATION
PRINCE RUPERT FIREFIGHTERS ASSOCIATION
Local No.559


PRINCE RUPERT FIREFIGHTERS ASSOCIATION

Formed on November 20th 1908, twenty professionally paid members, along with the Fire Chief and the Deputy Chief, operated one station which protected the twenty and a half square miles of Kaien Island. Any emergency could be handled by three pumpers, one 27 meter aerial platform, two equipment rescue vans, and two trailer pumps. Heavy industry located in the area includes a pulp mill, a sawmill, a grain elevator, a coal shipping terminal, the Port of Prince Rupert, and five fish processing plants. Because of Prince Rupert's remote location, with Terrace being more than an hour away, a mutual aid system did not exist. The members of the P.R.F.D. have proudly represented local 559 of the I.A.F.F. since 1938.

Gift Shop


Funds to operate our Museum come from donations and sales from our Gift Shop. T-shirts, puzzles, and photocards are our best sellers. Please contact us if you would like to purchase some articles. We will gladly ship anywhere.



Location: Prince Rupert is located on the north coast of British Columbia.

Contact Information:
Prince Rupert Fire Museum
200 1st Ave. West
Prince Rupert, B.C. V8J 1A8
Canada

Email: shirts@citytel.net

250-624-2211 phone 250-624-3407 fax

---
| PRL Internet Home |
© Prince Rupert Public Library

Updated on: March 29th 2005.