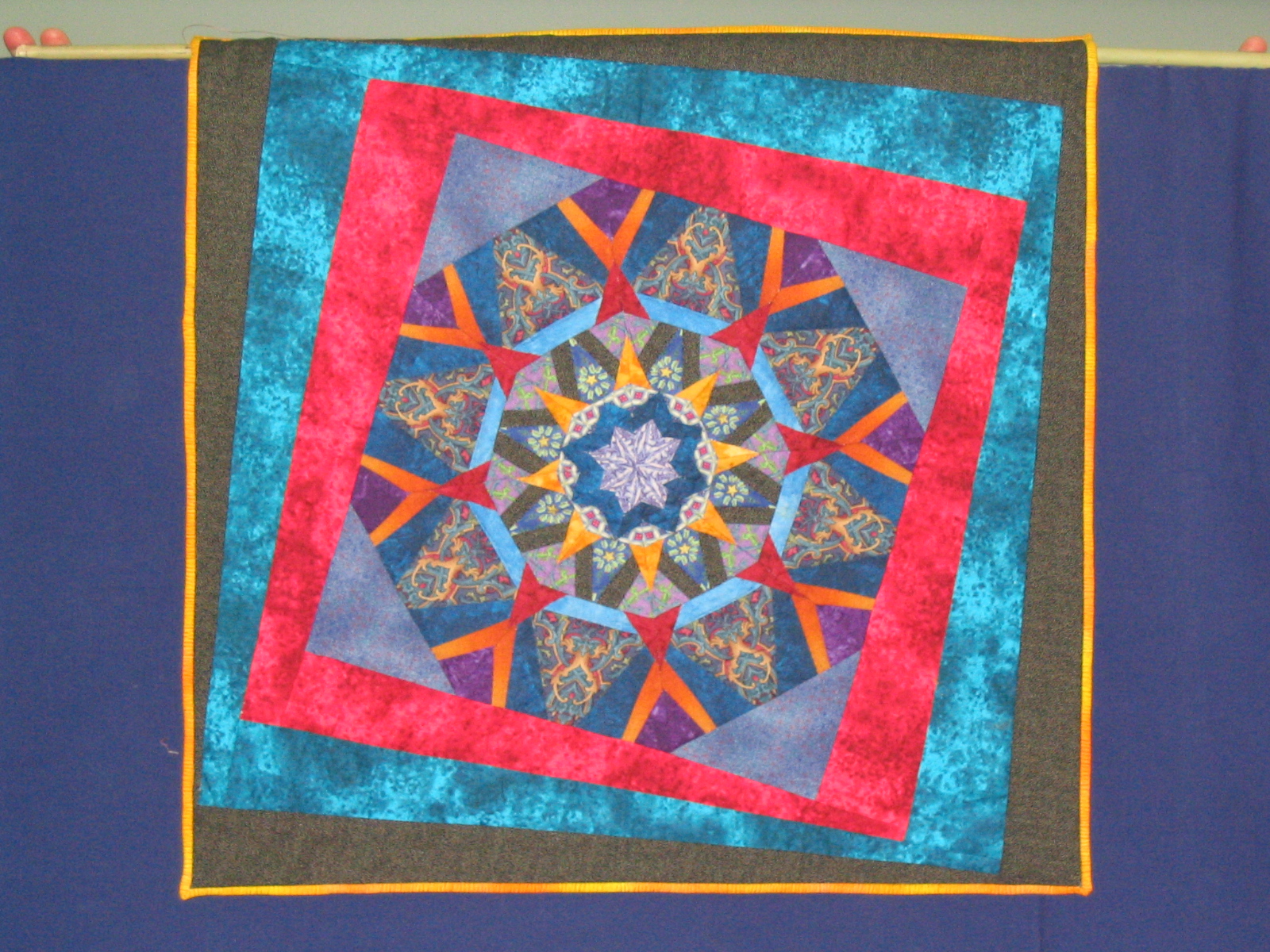 This kaleidoscope piece was made by Dolly Harasym of Prince Rupert.
The idea of putting such a piece together was from taking a workshop a few years ago at the Fabric Boutique with teacher Pam Mahoney. Every participant in the class created their own design and used the fabrics of their choice.
The kaleidoscope is made up from 8 identical triangles, with each piece of fabric individually cut and sewn together. Dolly decided to make her's into a wall hanging and added tilted borders to finish it off. To carry on and make a quilt following the same proceedure would have been extremely time consuming and likely a life time project.
Dolly has lived in Prince Rupert and area since 1975. For many of those years she resided on Digby Island where she became involved in an inter-island sewing circle with her friends. Because everyone lived isolated and had to commute by boat, it was not always possible to get together to make a quilt. As a result, many of the community-made quilts were of a medallion style consisting of a centre piece which was passed from person to person, each adding their own creative border to make the quilt. All of the finished products were given away to someone special in the community.
Since Dolly moved to town about 12 years ago, she has taken many sewing classes offered by the Fabric Boutique, which has helped her to improve her sewing skills as well as learn other styles and techniques of quilt making. Here in Prince Rupert, Dolly is an active member of the local quilt guild where there is always lots of laughter and creativity going on. Some of Dolly's other interests include dying silk scarves, gardening and volunteering time with local non-profit groups.
< Previous [1] | Back to gallery [2] | Next > [3]