Home21." Parcheesi" (or Vertigo) by Leah Cuthbert
21." Parcheesi" (or Vertigo) by Leah Cuthbert
---
...and on the back side we have: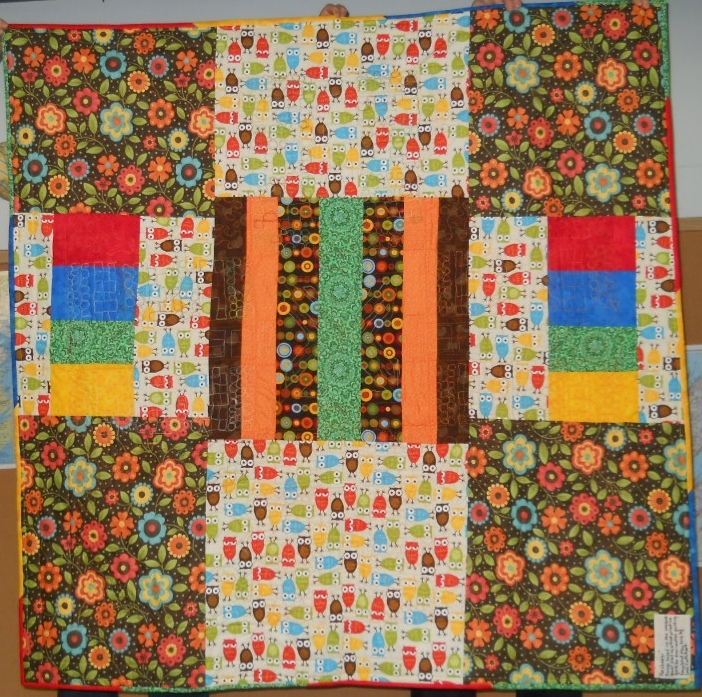 I've been harbouring the idea of a quilt based on the ancient game of Parcheesi for some months now. I love the colours and designs of the antique game boards. What tipped me to action was seeing a funky needlepoint version of a Parcheesi board somewhere on the web. Piecing the blocks on my old Pfaff and hand appliquing the owls was no problem.
While I'm clearly more of a knitter than a quilter, I have had a long time goal to learn free motion quilting. I recall asking Pam Mahoney, after a particularly stressful afternoon of creating rats nests on the back of my quilts, to run through the steps of free motion quilting. Pam made it sound sooo simple! It took me years after that brief lesson to figure out that I didn't have my presser foot in the right position.
In the last few years I've been periodically practicing on my little quilt sandwiches as I worked up the courage to quilt something bigger than a placemat. For some currently unfathomable reason I decided last weekend while suffering from an ear infection resulting in vertigo that it was time to free motion quilt my first quilt. I will spare you the details of my fall from reason into a frothing, deranged, somewhat foul-mouthed woman and just say it was a struggle. I ended up using so much thread I'm fairly certain Parcheesi can be used as a room divider rather than a quilt. Nonetheless, it is colourful and I am happy with my owls (besides, as my husband pointed out, it would take weeks and weeks to pick out all the machine quilting and start again).