Quilt Show 2012
---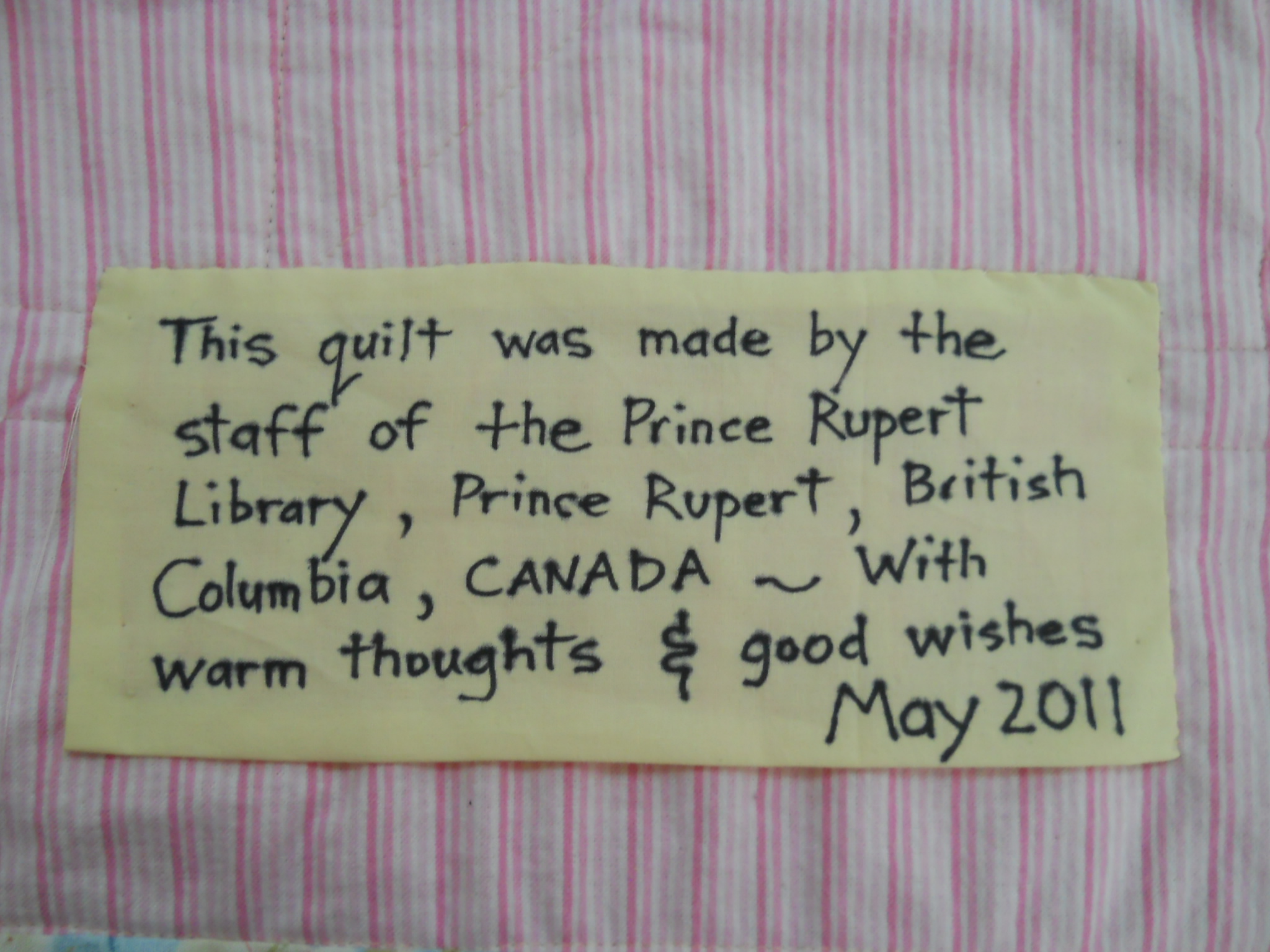 Many of the staff of the Prince Rupert Library rallied around Dolly Harasym's call for "Quilts for Japan". Generous quilters from our community and many, many others, made quilts which were then sent to Japan to be given to families affected by the tsunami
This is the quilt we (the staff of the Prince Rupert Library) made for the "Quilts for Japan" project.
As an everyday knitter and a quarter-time quilter, I have always been intrigued by traditional quilt blocks and wondered how they would turn out as an afghan. Recently I have been messing around with modular knitting and the much maligned garter stitch. In January I set myself the goal of knitting a Double Irish Chain afghan using modular knitting (one small block at time) and only yarn I currently owned (in the end I needed to purchase one more ball of white yarn, otherwise consider the stash busted!). I dressed up the white blocks where traditionally one would find a lovely quilted motif with a cable knit Celtic knot. I was just finishing my project when the library began looking for submissions for this year's quilt show. With a respectful nod to the highly skilled quilters in this community I present, with deference, my knitting homage to the fine art of quilting.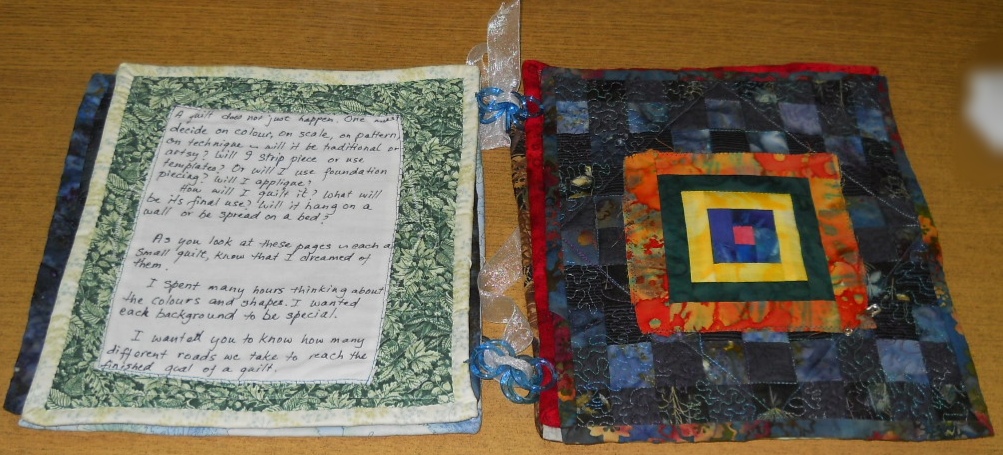 This beautiful quilted book was dreamed, thought out, and pieced and quilted by Adrienne in March 2009.
The book includes the following blocks: Rags to Riches; Cloth of Heaven; Colour Wheel; Pieced Log Cabin; 9 Patch Sandwich; Pond Life; Towhee. Adrienne made this book to give examples of how a quilt is made.
This book may be viewed at the circulation desk at the front of the library. Please wear the glove provided while viewing this lovely book.
I made this little quilt many many years ago (circ. 1989) when my now adult children were toddlers. The quilting and the applique were done by hand. It's amazing when I think back to myself as a working mom and all the hand quilting I did when my 3 kids were under the age of 5. I laugh at myself because now I'm trying to learn free motion quilting on my sewing machine because I'm too busy to quilt by hand! I'd love to regain the energy and organization skills I had when I was in my twenties – but it makes me tired just thinking about it. :-)
Inspired by the poem "Daffodils" by William Wordsworth (that I have loved since high school). When I came across the pattern in a "Quiltmaker" magazine from 2001, I knew that one day I would make this paper-pieced wall hanging. This past winter, while snowbirding, I made it and entered it in the park Craft Fair, garnering a 2nd place ribbon. I now want to pass it on to the Cancer Auction this fall – and hope whoever bids on it will think of family and friends as I did while I was sewing it up!
Yes, it was made from a kit! I never imagined myself making a wall-hanging from a kit. It seems, though a tough test, I did have the discipline to "follow the directions". I learned the Stained Glass process and couldn't wait to design and create the next one.
Joan really likes to make cat quilts and this recent project is a lovely example of her work. Joan would like us to take special note of the flowers.
This quilt was created to honour the First Nations Elder, Angela Sidney. Her story is told in Life Lived Like a Story, by Julia Cruikshank. Each fabric was thoughtfully chosen to represent a time in the passage of her life.
A table runner for Christmas in untraditional colours.
I couldn't believe the complexity of and colours used in this very technical quilt made by Pam Mahoney. Later in my quilting life, I attended classes given by Pam , and I learned about the 1⁄4 inch seam ("Does it really matter Pam?" I wondered in that first painful Beginners' class). This quilt is a perfect example of her 1⁄4 inch precision, combined with her eye-catching colour and value sense: "Jane, you have to have the lights to make the darks stand out."