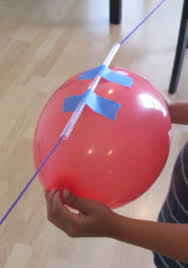 You will need: a length of string or yarn, a straw, a balloon, a clothespin or other clip, tape, and a drawing of a rocket if you wish.
Thread the straw onto the length of string. Hang the string between two places, or objects, so that it has an unobstructed path. You could tape one end of the string to a doorway, or a chair or table, for example.
If you like, you can print off, or draw, a picture of a rocket and attach it to the top of the straw. Blow up a balloon and secure the opening with either your fingers or a clip, then use tape to attach it to the bottom of the straw. You might need help on this step!
Finally, release the clip, or your fingers, from the bottom of the balloon and watch as your rocket blasts off!