About the Library
---
Borrowing Limits
Patrons can borrow up to 50 items at one time, but are limited to 3 items per subject, author, or series. Limits also apply to DVDs (5 at a time), Videos (5 at a time), CDs (5 at a time), and Talking Books (5 at a time).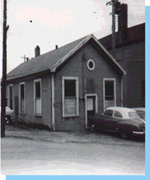 1913
Prince Rupert's first library originated as a Municipal Reading Room located beside the Fire Hall on Fulton Street. The reading room opened its doors in 1913 with a stock of magazines and newspapers -- most of them in foreign languages -- and became a favourite haunt of men off the boats and the older men of the city looking for the latest news and gossip.
1922
As the city continued to grow and thrive, the citizens of Prince Rupert realized the need for an official library. After a whirlwind campaign for a bylaw to form a public library, the Prince Rupert Public Library came into existence as a one room shack, lined with shelves and heated by a large wood and coal pot-bellied stove.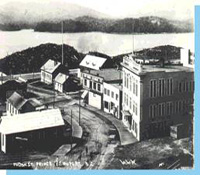 It was located on the corner of 3rd Avenue and 4th Street, where the City Hall fountain exists today. Miss Cruikshank managed a small, but growing collection of books, raised by an appeal for donations. After one year, the library had 1300 borrowers and circulated approximately 3000 books per month. People predicted it to be "influential in the life of the city."
The Prince Rupert Public Library's Mandate Is To:
---
Assemble, preserve and administer, in organized collections, books and related educational and recreational material, in order to promote, through guidance and stimulation in the communication of ideas, an enlightened citizenship and enriched personal lives.
Serve the community as a centre of reliable information
Support the educational, civic, and cultural activities of community groups
Provide opportunity and enrichment for children, young people, men and women to educate themselves continuously
Seek continually to identify community needs, to provide programs of service and access to meet such needs, and to cooperate with other organizations, agencies and institutions which can provide programs and services to meet community needs
Source: (Prince Rupert Public Library Board, Statement of Policy, 1990 (Part 1.1 a-f))
---
The Prince Rupert Library believes in the right of all citizens within our communities to access all expressions of knowledge, creativity and intellectual activity. We follow the Canadian Library Association's Statement on Intellectual Freedom. For further details of the CLA's position please see:
CLA Statement on Intellectual Freedom