HomeConsumer Health Complete
Consumer Health Complete
---
Photo: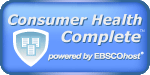 Access Consumer Health Complete from within the Library
Access Consumer Health Complete from outside the Library
description from EBSCOhost
Consumer Health Complete™ (CHC) is the single most comprehensive resource for consumer-oriented health content. It is designed to support the information needs of patients, and to foster an overall understanding of health-related topics. CHC provides content covering all areas of health and wellness from mainstream medicine to the many perspectives of complementary, holistic and integrated medicine. This full-text database covers topics such as aging, cancer, diabetes, drugs & alcohol, fitness, nutrition & dietetics, children's health, men & women's health, etc. CHC offers a unique search interface designed to call attention to the full text content available from many important source-types, and to provide an intuitive means for searching this specific information. Information provided in this database should not be viewed as a means for self-diagnosis or a substitute for professional medical advice, diagnosis or treatment.