Home2016 Novel Idea Auction Items
2016 Novel Idea Auction Items
---
This quilted and embellished winter scene panel features quilted swirls that a reminiscent of twisting snow that was falling at the time of the murder trial in Snow Falling on Cedars.
Book: Snow Falling on Cedars by David Geterson
A pantry and freezer stocked from the garden means fuel for winter and everything right in the world. This crate of preserves includes dilled beans, sweet pickled beans, pickled beats, wild cranberry sauce, wild cranberry chutney, salal/crab-apple jelly, red currant jelly, red currant/blue huckleberry jelly, rhubarb syrup, wild coho salmon and anipasto with tuna. Included is the book The Pickled Pantry: From Apples to Zucchini, 150 Recipes for Pickles, Relishes, Chutneys & More by Andrea Chesman.
Book: Bernardin Complete Book of Home Preserving
Inspired by Thumbelina, Faires and The Littles, this is a pocket sized playhouse in an altoids tin. The cover is a wool applique with an embroidered image of an old stump with a fairy door. Inside the tin, lives a little princess with a magic window to the world outside. Includes a 3 inch (9 cm) princess, a wee quilt, a beach chair and a tiny table.
Books: The Littles and the Secret Letter by Teddy Slater & Fairy House by Mike & Debbie Schramer
This quilt was inspired by the 1949 film version of Frances Hodgon's Burnett's The Secret Garden starring Margaret O'Brien. The film was in black & white except the garden, which was in glorious color. 52 by 66 inches, this quilt was professionally quilted which added significantly to it's cost which includes $175 of materials and $200 worth of quilting.
Book: The Secret Garden by Frances Hodgson Burnett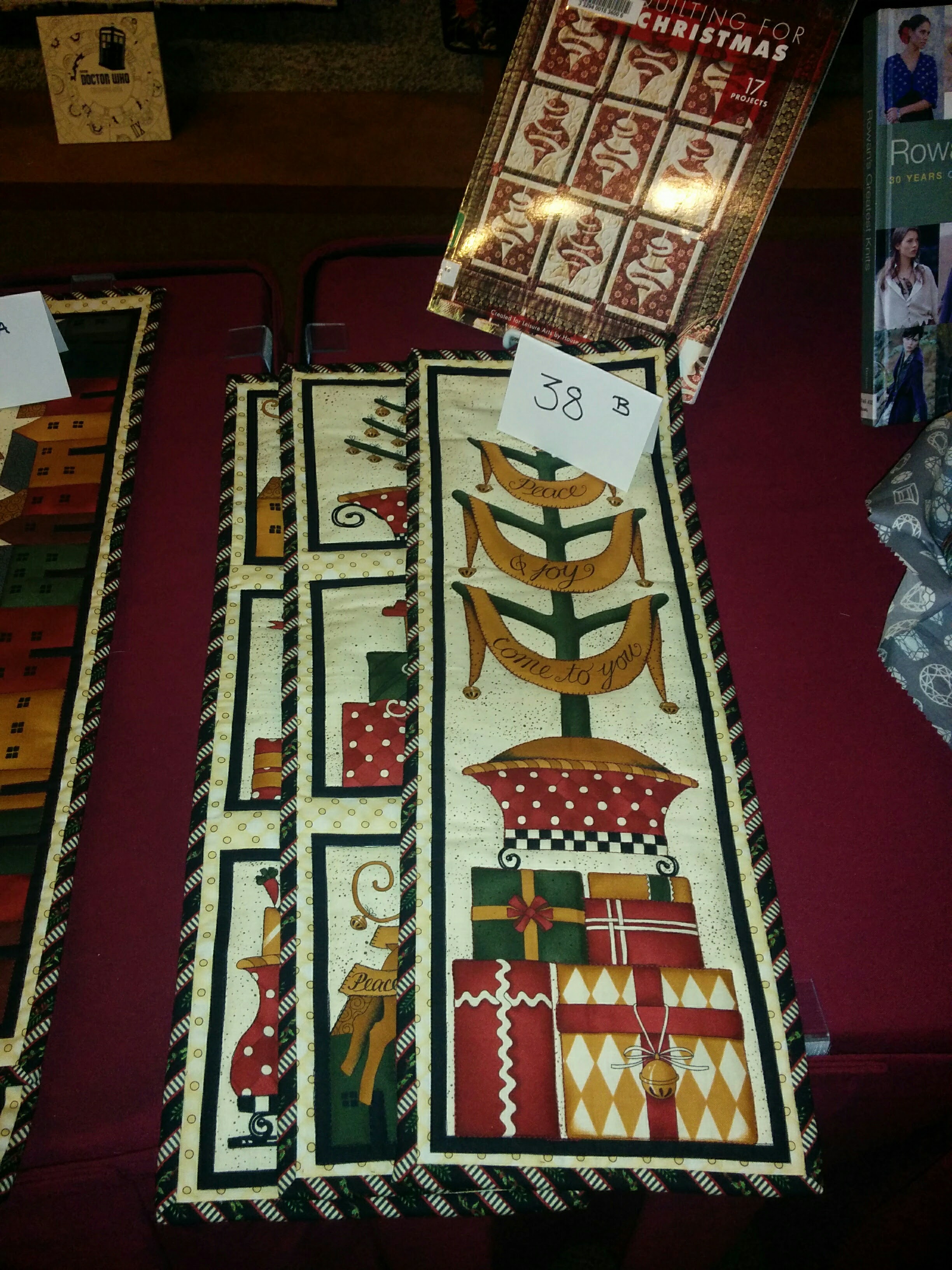 This set of quilted wall hangings have a collection of Christmas designs. They measure all just under eight inches by two feet.
Book: Quilting for Christmas by House of White Birches
This scarf is inspired by the North Star pattern of Donna Druchunas in her book of Oomingmak knitting. The scarf took more than one hundred hours to create and is four feet long and eight inch wide scarf.
Book: Inuit by Leslie Strudwick
Made with 100% Peruvian yarn, this fun and funky toque inspired the creator to read the book Dancing at the Harvest Moon rather than the other way around. Wear it on a chilly night gathering the last crops or at the fall dance. Take extra care with washing, though, as it may felt if not careful.
Book: Dancing at the Harvest Moon by K.C. McKinnon
Sewing and quilting cartoons make this wall hanging a special joy to anyone who's ever belonged to a quilting group or attended a workshop. Measuring 32 by 23 inches, it is paired with pewter sewing brooch with a sewing machine and tools.
Book: The Handbook of Quilting