About the Library
---
Home Delivery Service
Who is eligible for the Home Delivery Service?
Home service is available to anyone who, due to illness, injury or permanent disability, is unable to come to the library on their own.
All the resources of the library are available to you and we will deliver to your home any books, music, videos or magazines that you request.
To receive Home Service or if you need more information on any of these services, please call the Library at 250-627-1345 during library hours or e-mail us via our Contact Page.
The Prince Rupert Library is connected to the Internet via a highspeed ADSL line.
The library provides free wifi as well as eight public internet terminals. Everyone is allowed one 30 minute session per day free-of-charge. Once you have used your free turn you can purchase additional time for $1.00 per half hour. The terminals also provide access to word processing and spreadsheet software.
We presently do not provide telnet or FTP access.
For more information, read our Internet Usage Policy.
Internet Service Charge :
Internet Access: $1.00/½ hour
Printing Cost: $0.25/page B&W, $1.00/page Colour
Prepaid Internet Cards :
6 Hour Card: $10.00 (save $2.00). You will pay for 5 hours and get 1 hour free.
What is an Interlibrary Loan?
If you need a book, magazine article, microfilm or other information not available at the Prince Rupert Library, we will try to get it for you from another library. Through our interlibrary loan department we can obtain materials from public, college, university and government libraries, as well as a variety of other agencies. We search for items in B.C. libraries first, then across Canada and further afield if necessary.
What kinds of materials are available through Interlibrary Loan?
We can process requests for books, photocopies of magazine articles, reference material and microfilm (newspapers and archives). We can also search a subject for you if you don't have a specific reference. Some items are not available through interlibrary loan. These include audio-visual items, complete issues of magazines, new books and reference books.
Location
Prince Rupert Library
101 6th Avenue West
Prince Rupert BC V8J 1Y9
Phone: 250-627-1345
Fax: 250-627-7851
E-mail address:
Circulation / account / loan enquiries:
circulation@princerupertlibrary.ca
General / other enquiries:
info@princerupertlibrary.ca
(If the link does not work for your system's configuration, you can copy the e-mail address into your program or service to send us a message.)
The Library is on the southwest corner of 6th Avenue and McBride Street (Yellowhead Highway 16).
About the Board
The board is made up of eight citizens, appointed by Mayor and Council, and one Council representative. The Chief Librarian serves as Secretary. The Prince Rupert Public Library Board is a corporate body responsible for the operation of the library. It operates under the authority of the British Columbia Provincial Statue, Library Act.
Board Members
Chelsea Keayes, Board Chair
Andrea Wilmot, Vice-Chair
Nick Adey, City Council Representative
Cary Dalton, NWLF Representative
Brent Patriquin
Dale White
Stephanie Lysyk
Brendan Turner
Note: During the COVID-19 closure, we are offering to-your-door service. Visit the link for further details.
Borrowing Limits
Patrons can borrow up to 50 items at one time, but are limited to 3 items per subject, author, or series. Limits also apply to DVDs (5 at a time), Videos (5 at a time), CDs (5 at a time), and Talking Books (5 at a time).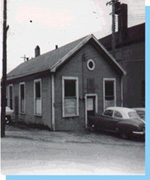 1913
Prince Rupert's first library originated as a Municipal Reading Room located beside the Fire Hall on Fulton Street. The reading room opened its doors in 1913 with a stock of magazines and newspapers -- most of them in foreign languages -- and became a favourite haunt of men off the boats and the older men of the city looking for the latest news and gossip.
1922
As the city continued to grow and thrive, the citizens of Prince Rupert realized the need for an official library. After a whirlwind campaign for a bylaw to form a public library, the Prince Rupert Public Library came into existence as a one room shack, lined with shelves and heated by a large wood and coal pot-bellied stove.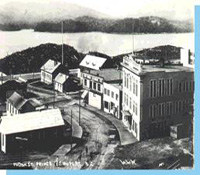 It was located on the corner of 3rd Avenue and 4th Street, where the City Hall fountain exists today. Miss Cruikshank managed a small, but growing collection of books, raised by an appeal for donations. After one year, the library had 1300 borrowers and circulated approximately 3000 books per month. People predicted it to be "influential in the life of the city."
The Prince Rupert Public Library's Mandate Is To:
---
Assemble, preserve and administer, in organized collections, books and related educational and recreational material, in order to promote, through guidance and stimulation in the communication of ideas, an enlightened citizenship and enriched personal lives.
Serve the community as a centre of reliable information
Support the educational, civic, and cultural activities of community groups
Provide opportunity and enrichment for children, young people, men and women to educate themselves continuously
Seek continually to identify community needs, to provide programs of service and access to meet such needs, and to cooperate with other organizations, agencies and institutions which can provide programs and services to meet community needs
Source: (Prince Rupert Public Library Board, Statement of Policy, 1990 (Part 1.1 a-f))
---
The Prince Rupert Library believes in the right of all citizens within our communities to access all expressions of knowledge, creativity and intellectual activity. We follow the Canadian Library Association's Statement on Intellectual Freedom. For further details of the CLA's position please see:
CLA Statement on Intellectual Freedom